Safari clothing
mistakes
Safari tips you can trust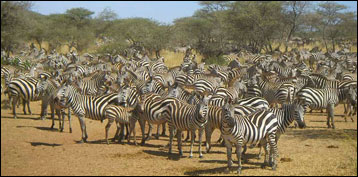 Wearing white, dark,
blue, striking, or
camouflage clothing

Fine-dust air
The safari plains are dusty. White or dark clothing quickly shows the accumulated fine dust in the air that settles on your clothes. Khaki is the best color because it is dust hued.

Avoid blue
Blue attracts the tsetse fly. Its bite is painful and could inflict trypanosomiasis (sleeping sickness).

Don't alarm the animals
Large, asymmetrical patterned clothes can distress animals.

Shun camouflage clothes
You could be arrested in some countries for donning camouflage clothing if you are not a member of the military.


Dressing up
"Hollywood safari" style

What not to wear
If you already bought a "safari wardrobe", you might not like what I'm going to say. Nowadays, very few safari-goers wear the clichéd big-game-hunter safari outfit. Those who do get deserved smirks from the rest.

What to wear
Today's safari dress code is comfortable, everyday clothing - the kind you would wear to a casual country-club barbecue.
Learn More

to see more clothing mistakes
Learn the other
safari mistakes


Binoculars
Booking
Cameras
Clothing
Costs
Dining
Group tours
Guides and drivers
Health and safety
Learning
Tents
Timing
Transfers
Vehicle type
Top 10 mistake rankings


Top 5 safari destinations
Kenya vs Tanzania
What it's like on a luxury safari
Big 5 safari animal list
Animal facts & tidbits
Photo by Peter Steen Leidersdorff - GNU 1.2

World's Top 100 Wonders
World's Top 1000 Wonders
Site map
My credentials
About my website and criteria
Reader testimonials