Safari camera
mistakes
Safari tips you can trust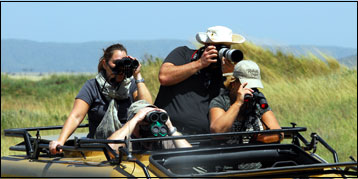 Blowing safari photo ops
by being unaware of
these fundamentals

Best hours
Safari shots taken in the early morning and late afternoon hours usually produce the best photos of the animals and landscapes. Mid-day photos often lack vivid colors and needed contrast.

Avoid camera shake
For sharp photos, don't shoot when your vehicle is moving on a rough road or terrain. And unless you have a good image stabilizer, don't expect crisp photos even when the vehicle is starting or idling.

Avoid telephoto shake
You can also prevent fuzzy photos by not using a telephoto lens in greater magnification than your practiced skill in holding the camera steadily.

Camera cleanliness
Keep your camera and lens sealed when not in use - and bring a lens cleaning kit. Fine dust is normal on a safari and could cause your camera's circuitry or mechanics to malfunction.
Learn More

to see more camera mistakes
Learn the other
safari mistakes


Binoculars
Booking
Cameras
Clothing
Costs
Dining
Group tours
Guides and drivers
Health and safety
Learning
Tents
Timing
Transfers
Vehicle type
Top 10 mistake rankings


Top 5 safari destinations
Kenya vs Tanzania
What it's like on a luxury safari
Big 5 safari animal list
Animal facts & tidbits
Photo by Wegmann - CC BY-SA 3.0

World's Top 100 Wonders
World's Top 1000 Wonders
Site map
My credentials
About my website and criteria
Reader testimonials