Safari timing
mistakes
Safari tips you can trust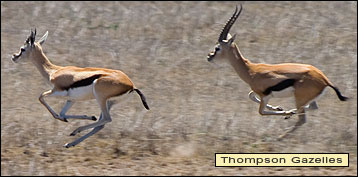 Not knowing
the best-viewing
times of the day

Best & worst
Early morning and late afternoon are the best game-viewing times. During the middle of the day, many mammals are hard to spot because they take shelter in the bushes and tall grasses.

Late sleepers & pool lovers
Safari-goers who sleep late and head off late on their morning game drives literally miss a lot of what they paid a lot to see. The same is true for those who return early from their afternoon game drives to take a dip in the lodge's swimming pool.


Thinking that a full
moon would be perfect

Animal behavior
Although a full moon is romantic, its brightness can alter both the predator's and prey's normal behavior. This makes it more difficult to spot wildlife on night drives.


Going on an
ill-paced safari tour

Too much, too little
Some tours cram in too much (or offer too little) game viewing in a given number of days. Analyze the itinerary.


Not going on a
safari if you have only
several days to spare

Better to see than not at all
A long safari is obviously better than a short one. But it is also true that a short one is better than no safari. If you are on a business trip in, for instance, Dar es Salaam and have several days to spare for a safari, go for it. You may never have the opportunity again.
Learn the other
safari mistakes


Binoculars
Booking
Cameras
Clothing
Costs
Dining
Group tours
Guides and drivers
Health and safety
Learning
Tents
Timing
Transfers
Vehicle type
Top 10 mistake rankings


Top 5 safari destinations
Kenya vs Tanzania
What it's like on a luxury safari
Big 5 safari animal list
Animal facts & tidbits
Photo by Stig Nygaard - CC BY 2.0

World's Top 100 Wonders
World's Top 1000 Wonders
Site map
My credentials
About my website and criteria
Reader testimonials