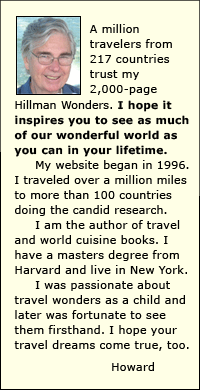 Top 100 Wonders
of the World

---

Read my helpful tips on
travel wonders, cruises, safaris, and more
This can make the difference between your
having a great and not-so-great trip.
For example, you'll learn

The best Caribbean Islands

The best cruise lines by category

The top 10 safari mistakes to avoid

The best and worst times to visit cities including Paris, Rome, Hong Kong, Rio de Janeiro, and New York

World cuisine rankings

The best Mediterranean shore excursions

The must-see sights of Paris

Why Kerala in India is special

How to pronounce oft-mispronounced country names

Our planet's top art museums

The most bizarre festivals

Top man-made wonders

The most romantic cruise

The most interesting travel quotes

The five major flaws of the Ancient Seven Wonders list

The world's most famous beaches

Why Dubrovnik is special

Basic French phrases with pronunciations

Top travel photo mistakes

and hundreds of other expert pointers
Click blue links for
travel advice you can trust
Country wonder guides: America - Australia - Austria - Brazil - Canada - China - Costa Rica - Croatia - Czech Republic - Dubai - Egypt - England - France - Germany - Greece - Holland - Iceland - India - Ireland - Israel - Italy - Japan - Jordan - Mexico - New Zealand - Peru - Philippines - Poland - Portugal - Scotland - Singapore - South Africa - Spain - Switzerland - Thailand - Turkey - Vatican - Vietnam Region wonder guides: Antarctica - Caribbean Islands - Polynesia Best cruise lines: Best cruise lines Cruise destinations: Alaska - Antarctica - Baltic - Bermuda - Canada/New England - Caribbean - Fjords of Norway - Galapagos - Hawaiian - Mediterranean - Mexican Riviera - Persian Gulf - Southeast Asia - More cruise destinations Special cruise categories: Adventure - Family - Honeymoon - Luxury - River - Romantic What luxury cruise ships are like: Azamara Quest - Celebrity Xpedition - Paul Gauguin - Regent Voyager - SeaDream II - Silver Shadow - Silver Spirit - Silver Whisper - Silver Wind Safari savvy: Best 5 Safaris - Safari Mistakes to Avoid - What It's Like on a Luxury Safari Site Map: Complete Site Map More helpful advice: Ancient Seven Wonders - Bali Guide - Best Hawaiian Luxury Resorts - Best and Worst Times for 25 Cities - Complete Top 1000 Wonder List - Galapagos Guide - Golden Triangle India tour - How to Pronounce Countries - Top Ten Travel Lists (40) - Travel Quotes - Travel Quiz - World Cuisines
Click here for a sampling of what readers say about Hillman Wonders. Click here for my credentials. Click here for my website's background - and for my rating and ranking criteria.
Copyright 2017 HQP - Hillman Quality Publications / hillmanwonders.com