Blue Lagoon
Travel tips you can trust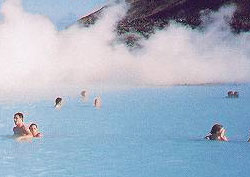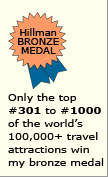 Why the
Blue Lagoon
is special
The large, outdoor Blue Lagoon with its rising steamy clouds and lava-rock walls creates a bizarre aura.
Blue Lagoon
tips and insights

Why people come
Visitors fall into two categories:

The vast majority of visitors bathe in the water to relax and unwind - or to satisfy their curiosity - or for conversation-piece value.

Others come for health, wellness, and spa beauty treatments from the water's reputed curative powers. The site's best-known treatment is for the skin disease psoriasis.

Be aware
Though the Blue Lagoon is an entertaining communal bathing activity, there is a side effect that the promotional brochures don't tell you
Your unprotected hair can remain undesirably straw-like for days if you submerge your head in the mineral-rich water. Tips:

Before you enter the water
Conditioner is available free in the showers. Use it generously when taking the mandatory pre-pool shower.

While in the water
Don't swim or otherwise wet your head unless you have a water tight swimming cap.

After you leave the water
Free shampoo is also provided in the showers. Use it aggressively during your post-pool shower to rid your hair of the lagoon minerals. And don't forget to generously apply the conditioner.
Hand wash your bathing suit well while you are in the shower. Otherwise, the
lagoon water minerals could possibly stiffen and stain your sui

Lagoon is artificial
It didn't exist until the nearby geothermal power plant was constructed.

Blue Lagoon geographical stats
The Blue Lagoon lies 39 kilometers (24 miles) from Reykjavik and only 13 kilometers (8 miles) from the international airport.

Location in Iceland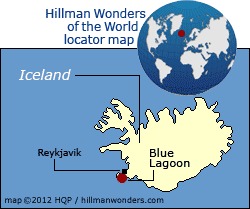 Learn More

for next Blue Lagoon page
Know these
Iceland tips and insights
Top 5 Wonders of Iceland
Best 5 day trip tours
Blue Lagoon
Car rental, bus, and taxi tips
Dining and party scene
Flights to Iceland
Geysir Geothermal Field
Gullfoss waterfall
Hotel tips
Ice & Fire flight
Iceland Excursions
Interesting facts and tidbits
Jokulsarlon Glacial Lagoon
More tips and insights
Most interesting hotel
Myvatn Lake Region
Thingvellir National Park
Vatnajokull Glacier

World's Top 100 Wonders
World's Top 1000 Wonders
Site map
My credentials
About my website and criteria
Reader testimonials