Flights to Iceland
Travel tips you can trust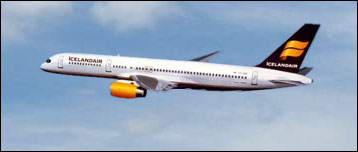 Several airlines fly to Iceland from Europe and North America. Most Iceland-bound vacationers fly Icelandair (see photo).
Icelandair's special bargain

One of the world's
best airline deals
When you buy a roundtrip ticket to fly between Europe and North America on Icelandair, you are entitled to a free stopover in Iceland (up to 7 days) to experience the country.
For instance, instead of flying from Boston to Paris, you would fly from Boston to Reykjavik, spend three days there, and then continue your flight to Paris. Or do the reverse.
Icelandair serves 30 cities including:
America: Boston, Chicago, Denver, New York, Minneapolis, Orlando, Seattle, and Washington, DC. Canada: Halifax and Toronto. Europe: Amsterdam, Barcelona, Berlin, Brussels, Copenhagen, Glasgow, Hamburg, Helsinki, London, Madrid, Milan, Munich, Oslo, Paris, and Stockholm.
Click Icelandair to go directly to its website to view its route map, fares, and booking information.
Other airlines that fly to Iceland

They include
Air Berlin, British Airways, Delta, Iceland Express, SAS, and United.
Getting from the airport
to and from Reykjavik

Distance
It's about 50 kilometers (35 miles) away and normally takes around 50 minutes.

Bus via taxi
An airport bus meets all arrivals and departures - and will drop you off at Reykjavik hotels and some guest houses. Most visitors choose the bus because its one-way fare is about $16 dollars or 12 euros compared to about $110 dollars or 90 euros for a taxi.

Blue Lagoon stopover
Some tour companies (including Iceland Excursions) operate a shuttle bus service that allows you to spend time at the Hillman Wonder medal wining Blue Lagoon while you are traveling from the international airport to Reykjavik - or in the reverse direction. Your luggage is stored safely in the luggage compartment while you enjoy the site.
Know these
Iceland tips and insights
Top 5 Wonders of Iceland
Best 5 day trip tours
Blue Lagoon
Car rental, bus, and taxi tips
Dining and party scene
Flights to Iceland
Geysir Geothermal Field
Gullfoss waterfall
Hotel tips
Ice & Fire flight
Iceland Excursions
Interesting facts and tidbits
Jokulsarlon Glacial Lagoon
More tips and insights
Most interesting hotel
Myvatn Lake Region
Thingvellir National Park
Vatnajokull Glacier

World's Top 100 Wonders
World's Top 1000 Wonders
Site map
My credentials
About my website and criteria
Reader testimonials