Geysir
Geothermal Field
Travel tips you can trust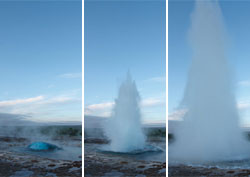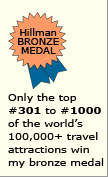 Why the Geysir
Geothermal Field is special
This small area has various geothermal features including a number of geysers.
What to see

Top 2 attractions
Most of the geysers in the area are small and feeble. But two geysers – the famous Great Geysir and the more dependable Strokker Geysir – are robust. They are the ones that attract tourists.

Great Geysir
It once erupted frequently and its expelled steam-water soared approximately 70 meters (230 feet). The last majestic eruption was in 2000. Today, the Great Geysir is fairly inactive and weak, though you might be fortunate to witness a majestic eruption. (Note: This attraction also goes simply by the name "Geysir".)

Strokker Geysir
Although its discharge rises "only" 25 to 35 meters (80 to 110 feet), Strokker Geysir often performs on a 5 to 15 minute frequency cycle, to the joy of visitors. It sits about 50 meters (150 feet) south of the Great Geysir.
Geysir Geothermal Field
tips & insights

Name
Several centuries or so ago, Icelanders aptly bestowed the name "Geysir" ("gush" in ancient Norse) on what is known today as the "Great Geysir" or simply "Geysir".
Nowadays, nearly all the world's sprouting thermal features incorporate Geyser in their names. (The spelling "geyser" is the English translation.)

Earthquakes
Geologists have proven that increased geothermal activity follows earthquakes.
Some people (including scientists) have tossed soap into the Great Geysir's mouth to artificially cause eruptions. Not a good idea. Although the method works, it can seriously damage a geyser, sometimes permanently.
Location in Iceland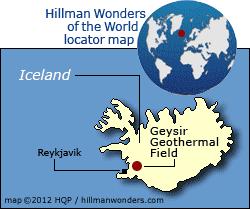 Learn More

for next Geysir Geothermal page
Know these
Iceland tips and insights
Top 5 Wonders of Iceland
Best 5 day trip tours
Blue Lagoon
Car rental, bus, and taxi tips
Dining and party scene
Flights to Iceland
Geysir Geothermal Field
Gullfoss waterfall
Hotel tips
Ice & Fire flight
Iceland Excursions
Interesting facts and tidbits
Jokulsarlon Glacial Lagoon
More tips and insights
Most interesting hotel
Myvatn Lake Region
Thingvellir National Park
Vatnajokull Glacier
Photo by OscarV055 - CC BY-SA 3.0

World's Top 100 Wonders
World's Top 1000 Wonders
Site map
My credentials
About my website and criteria
Reader testimonials