Myvatn
Lake Region
Travel tips you can trust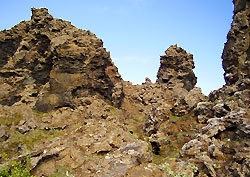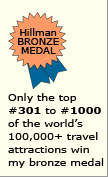 Why the
Myvatn Lake Region
is special
While the lake itself is nothing to write home about, the natural attractions in the lake's environs are special. Highlights include interesting volcanic formations and notable birdlife.
Myvatn Lake Region
tips and insights

Visitor activities
They include:

Exploring the eccentric lava formations at Dimmuborgir

Climbing volcanoes and craters for panoramic views

Seeing the unusual pseudocraters (created by uprising steam, not lava)

Birdwatching (Myvatn has a remarkable number of duck species)

Salmon and trout fishing in the lake's outlet Laxa River

Hiking the trails and biking the rural roads

Relaxing in the Myvatn Nature Baths (some say it's better than the more costly, crowded, and commercialized Blue Lagoon)

Midges - A big problem
Myvatn means "Midge Lake", for good reason. From late spring to early fall, the lakeshore swarms with pesty midges (think gnats).
The females aggressively bite you for your blood, so here are two pointers:

Wear ample repellent when you're on or near the lake or other body of water. Seriously consider wearing head netting.

To avoid midges altogether, visit in early spring or late fall. You could also come in the winter, but the winter climate has its obvious disadvantages.

Pronounciation
Myvatn = MEE-VAHT'N

Setting
The area straddles the Mid-Atlantic Ridge, where the Eurasian and North American tectonic plates are drifting apart. This explains why the region has so much volcanic activity.
Myvatn Lake Region is 500 kilometers (300 miles) from Reykjavik.

Location in Iceland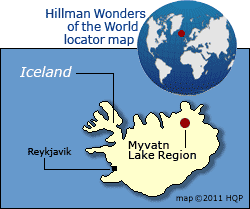 Know these
Iceland tips and insights
Top 5 Wonders of Iceland
Best 5 day trip tours
Blue Lagoon
Car rental, bus, and taxi tips
Dining and party scene
Flights to Iceland
Geysir Geothermal Field
Gullfoss waterfall
Hotel tips
Ice & Fire flight
Iceland Excursions
Interesting facts and tidbits
Jokulsarlon Glacial Lagoon
More tips and insights
Most interesting hotel
Myvatn Lake Region
Thingvellir National Park
Vatnajokull Glacier
Photo by Jennifer Smith - CC BY-SA 2.0

World's Top 100 Wonders
World's Top 1000 Wonders
Site map
My credentials
About my website and criteria
Reader testimonials