Ice & Fire air tour
Travel tips you can trust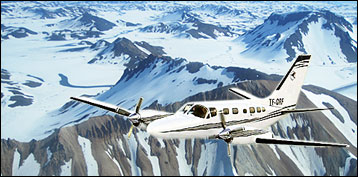 The Ice and Fire air tour is operated by Eagle Air, Ice & Fire is its most popular tour.
What you'll see
on the Ice and Fire tour ...

The three Hillman Wonder
medal winners that are on
the Golden Circle route

Gullfoss waterfall
Iceland's best attraction. A picturesque, mighty waterfall in an unspoiled location.

Geysir Geothermal Field
Active geysers and other geothermal features.

Thingvellir National Park
See the full length of the Almannagja Fault canyon.
Click the blue links above to read my individual web pages on those wonders.

Plus these major
tourism attractions

Eyjafjallajökull
Both a glacier and volcano. Famous for its 2010 eruption that grounded European air traffic for days.

Hekla
A huge, active volcano whose eruption is overdue.

Landmannalauger
Has striking rhyolite peaks.

Thórsmörk
A nature reserve surrounded by glaciers
For more information
on the Ice & Fire tour
Click Eagle Air - Ice & Fire tour info to go directly to the airline's Ice & Fire web page. It gives you the latest schedules, fares, and more.
Eagle air's other air tours include:

The Power of Nature (explores the Westman Islands)

The Capital Region - Town and Country (flies over natural and manmade attractions in and near Reykjavik)

Custom (whatever itinerary you desire).
Know these
Iceland tips and insights
Top 5 Wonders of Iceland
Best 5 day trip tours
Blue Lagoon
Car rental, bus, and taxi tips
Dining and party scene
Flights to Iceland
Geysir Geothermal Field
Gullfoss waterfall
Hotel tips
Ice & Fire flight
Iceland Excursions
Interesting facts and tidbits
Jokulsarlon Glacial Lagoon
More tips and insights
Most interesting hotel
Myvatn Lake Region
Thingvellir National Park
Vatnajokull Glacier
Photo courtesy of Eagle Air

World's Top 100 Wonders
World's Top 1000 Wonders
Site map
My credentials
About my website and criteria
Reader testimonials