Best 5 Iceland
day trip tours
Travel tips you can trust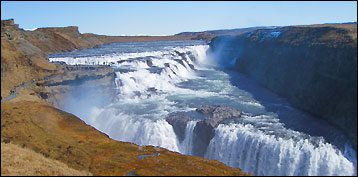 Iceland's best 5 day trip tours
Click blue links for my candid web pages on the best 5 day trip tour destinations.

Grand Circle
You visit Gullfoss waterfall (see photo above), the Geysir Geothermal Field, and the Thingvellir National Park - all three are medal Hillman Wonder winners.

Ice and Fire Tour
You fly low over all three of the medal winning Grand Circle wonders mentioned above. And your Ice and Fire Air Tour gets you close to volcanoes and wilderness areas.

South Coast and Jokulsarlon Lagoon
The highlight of this 14-hour bus tour is beautiful Jokulsarlon Glacial Lagoon. Once there, an amphibian boat glides you between icebergs.

Blue Lagooon
Immerse yourself in the geothermal-heated waters. The Blue Lagoon is popular, partially because it's just 50 minutes from Reykjavik.

Greator Reykjavik
It gives you a big-picture perspective before you explore Reykjavik and environs on your own.
Best day trip tour runners-up

Biking and hiking excursions

Diving and snorkeling

Glacier snowmobiling, trekking, or walking

Ice cave exploring

Northern Lights (Aurora Borealis) watching

River and lake fishing

Westman Islands excursions

Whale watching

And more
Iceland is underrated
Iceland is one of the most underrated travel destinations in the world. Few travelers realize how many unique experiences and beautiful natural vistas it offers.
The island is ideal for a several-day to week-long getaway from western Europe or America, especially if you enjoy pristine natural environments.
Iceland is superb for day tours and has several good tour companies based in Reykjavik. The one that offers the broadest range of day trip tours (50) and the newest-on-average vehicle fleet is Iceland Excursions. Click Iceland Excursions to see my list of its tours.
Know these
Iceland tips and insights
Top 5 Wonders of Iceland
Best 5 day trip tours
Blue Lagoon
Car rental, bus, and taxi tips
Dining and party scene
Flights to Iceland
Geysir Geothermal Field
Gullfoss waterfall
Hotel tips
Ice & Fire flight
Iceland Excursions
Interesting facts and tidbits
Jokulsarlon Glacial Lagoon
More tips and insights
Most interesting hotel
Myvatn Lake Region
Thingvellir National Park
Vatnajokull Glacier

World's Top 100 Wonders
World's Top 1000 Wonders
Site map
My credentials
About my website and criteria
Reader testimonials