Vatnajokull Glacier
Travel tips you can trust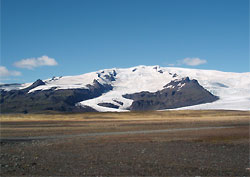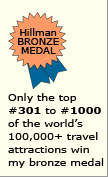 Why
Vatnajokull Glacier
is special
Vatnajokull Glacier covers 8% of Iceland and is Europe's largest glacier by volume. The thickest part of the glacier measures about 1,000 meters (3,300 feet) deep. This wonder is home to the country's tallest mountain and most powerful waterfall.
Vatnajokull Glacier
tips and insights

Volcanic eruptions
Vatnajokull Glacier sits over a deep subterranean magna chamber and several large active volcanoes reside under the ice. One of them - Grimsvotn - erupted as recently as May 21, 2011. The resulting towering volcanic ash cloud forced some 500 flight cancellations in Europe.

Tourist activities
You can hike, trek, snowmobile, and flightsee - as well as take a super-jeep excursion or explore ice caves.
You can also hop aboard an amphibian tour boat on the adjacent glacial Jokulsarlon Glacial Lagoon (a wonder in itself). The boat sails between and close to numerous icebergs that were calved from a glacial arm of the Vatnajokull Glacier.

Name
Pronouce Vatnajokull Glacier:
VAT-nah-yehr-judkle
The name translates "glaciers of rivers". That descriptive label refers to the many outlet glaciers that move slowly down the Vatnajokull's mountain canyons.

The future
Some climatologists predict that Vatnajokull Glacier will all but vanish within the next 100 years because of a combination of global warming and decreased snowfall.

Location in Iceland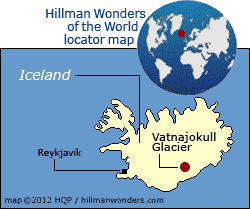 Know these
Iceland tips and insights
Top 5 Wonders of Iceland
Best 5 day trip tours
Blue Lagoon
Car rental, bus, and taxi tips
Dining and party scene
Flights to Iceland
Geysir Geothermal Field
Gullfoss waterfall
Hotel tips
Ice & Fire flight
Iceland Excursions
Interesting facts and tidbits
Jokulsarlon Glacial Lagoon
More tips and insights
Most interesting hotel
Myvatn Lake Region
Thingvellir National Park
Vatnajokull Glacier

World's Top 100 Wonders
World's Top 1000 Wonders
Site map
My credentials
About my website and criteria
Reader testimonials