Car rental,
bus, and taxi tips
Travel tips you can trust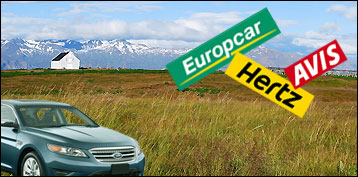 Car rentals

Renting a car is expensive in Iceland. Besides the basic rental fee, there's mandatory insurance, pricey gas, and 25.5% value added tax.

Route 1 (the "Ring Road") that completely circles Iceland is paved. So are most of the roads in greater Reykjavik. Unfortunately, a large percentage of the other roads are unpaved. For many of them, you need a 4-wheel-drive vehicle.

Gas stations can be few and far between in Iceland's hinterland. So try to keep the tank at least two-thirds full.

Most road signs beyond Reykjavik are in Icelandic without helpful translations to English or other foreign languages.

If the above drawbacks don't concern you, do rent a car. Iceland's natural beauty is perfect for road tripping.

Buses

Most of Iceland's well-populated areas are well-serviced by public buses.

Reykjavik bus routes and schedules can be confusing to out-of-towners. And change is not given.

For tips on airport busses, visit my Flying to Iceland web page.

Taxis

They're expensive for most vacationers' budgets. For instance, a one-way trip from the international airport to the capital city Reykjavik will set you back about $110 dollars or 90 Euros.

The good news is they are metered and have set official rates in Reykjavik (meaning hassle free). And tipping is not expected.

Rates increase at night and taxi availability becomes scarcer.
Know these
Iceland tips and insights
Top 5 Wonders of Iceland
Best 5 day trip tours
Blue Lagoon
Car rental, bus, and taxi tips
Dining and party scene
Flights to Iceland
Geysir Geothermal Field
Gullfoss waterfall
Hotel tips
Ice & Fire flight
Iceland Excursions
Interesting facts and tidbits
Jokulsarlon Glacial Lagoon
More tips and insights
Most interesting hotel
Myvatn Lake Region
Thingvellir National Park
Vatnajokull Glacier

World's Top 100 Wonders
World's Top 1000 Wonders
Site map
My credentials
About my website and criteria
Reader testimonials