Iceland's
dining & party scene
Travel tips you can trust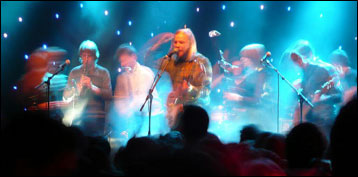 Reykjavik's
famous late-night
party scene

Bar and club action
It usually doesn't begin in earnest until midnight - and the youthful revelers don't quit until around 5 am. Sometimes they loudly spill out into the streets, moving from drinking establishment to another. It's fun, but not for those in nearby hotels trying to sleep.

Venues
Some spots are purely for drinking, others have entertainment, which sometimes can be quite good. At peak time, the most popular bars and clubs are crush-full.

Prime locations
The action happens in Center City. The two hot epicenters are the old city Main Square and the western end of Laugavegur Street.

Peak night
It's Friday. Saturday nights are a tad tamer. Sunday through Thursday is typically a relatively quiet period.
Reykjavik's best restaurants

Grill Market
and Fish Market
These two sister restaurants are Reykjavik's two best all-around quality restaurants. Both theGrill Market and Fish Market have commendable kitchens, eye-catching decors, interesting menus, and friendly service. They are quite popular with food-savvy locals, so make your reservations early.

Runners-up
They include Fjalakötturinn, Lækjarbrekka, and Lobster House. Compared to the Grill Market and Fish Market, they are more traditional in ambiance and their dining rooms have less buzz. But like those two restaurants, they are first-rate, have high prices, and are conveniently located in the heart of the City Center area.
Iceland hotdog

It's not your
back-home hot dog
It's better. This one is made with a lamb-and- pork mixture and some food critics have called it Europe's best hot dog.
Iceland has countless hot dog stands, but Bejarins Beztu in the City Center has become a must stop for visiting presidents and celebrities. That's the one you should visit. Ask a local for directions.
Famous alcoholic brands

Top 3

Brennivin - High-potent schnapps

Reyka Vodka - Has fans around globe

Egils Gull lager - Go for the draft
Know these
Iceland tips and insights
Top 5 Wonders of Iceland
Best 5 day trip tours
Blue Lagoon
Car rental, bus, and taxi tips
Dining and party scene
Flights to Iceland
Geysir Geothermal Field
Gullfoss waterfall
Hotel tips
Ice & Fire flight
Iceland Excursions
Interesting facts and tidbits
Jokulsarlon Glacial Lagoon
More tips and insights
Most interesting hotel
Myvatn Lake Region
Thingvellir National Park
Vatnajokull Glacier
Photo by Chmee2 - CC BY-SA 3.0

World's Top 100 Wonders
World's Top 1000 Wonders
Site map
My credentials
About my website and criteria
Reader testimonials