Thingvellir
National Park
Travel tips you can trust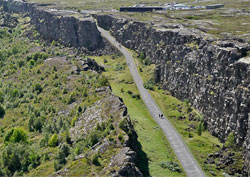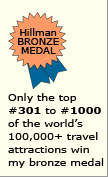 Why Thingvellir
National Park is special
The park's Althing (parliament) is the cultural soul of Iceland because it played a key role in the country's long history. Thingvellir National Park also has impressive rock formations and a unique snorkeling and diving spot.
Thingvellir
tips and insights

Parliament
The world's first and longest-lasting parliament met here from 903 to 1798. Chieftains from around Iceland gathered to debate and enact laws – and to settle disputes. The participants assembled in a natural outdoor amphitheater in the Almannagja Fault.

The Almannagja Fault (see photo)
This is the visitor's favorite attraction. You walk on a canyon floor flanked by high, craggy cliffs. The views are arresting from both within the canyon and from a panoramic viewing platform on a high nearby hill.

Geographical error
Some travel writers would have you believe that the cliff face on one side of the Almannagja Fault is the edge of North American tectonic plate and the other side is the edge of the Eurasian tectonic plate
Fact: Both sides of the canyon are part of the North American Plate. The Eurasian plate begins roughly five kilometers away. The land between is a geographical no-man's land, neither Eurasian nor North American.

Silfra underwater fissure
Here you can dive or snorkel in a Mid-Atlantic Ridge fissure. The glacial water is exceptionally clear but very cold.

Name
Thingvellir means "parliament plains", referring to the site where the lawmakers assembled. It is pronounced THINK-velt-tier.

Golden Circle
Thingvellir is one of the top three draws of the Golden Circle tour route. (The other two are Gullfoss waterfall waterfall and the Geysir Geothermal Field.)

Distance
Thingvellir National Park is an hour's drive northeast of Reykjavik.

Location in Iceland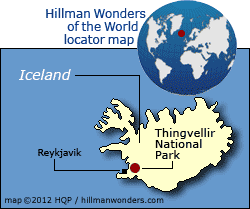 Know these
Iceland tips and insights
Top 5 Wonders of Iceland
Best 5 day trip tours
Blue Lagoon
Car rental, bus, and taxi tips
Dining and party scene
Flights to Iceland
Geysir Geothermal Field
Gullfoss waterfall
Hotel tips
Ice & Fire flight
Iceland Excursions
Interesting facts and tidbits
Jokulsarlon Glacial Lagoon
More tips and insights
Most interesting hotel
Myvatn Lake Region
Thingvellir National Park
Vatnajokull Glacier
Photo by Arni Geirsson - CC BY 2.0

World's Top 100 Wonders
World's Top 1000 Wonders
Site map
My credentials
About my website and criteria
Reader testimonials